Previous product
Back to products
Next product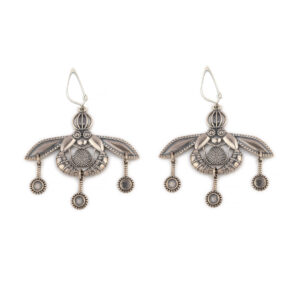 Phaistos Disk Earrings – Sterling Silver and Gold Plated
45,00€
Tax reduction for Non-Eu countries at the end of the order
This beautiful pair of earrings representing the disc of Phaistos. The Phaistos Disc is a disk of fired clay from the Minoan palace of Phaistos on the island of Crete. Now, the island of Crete is part of modern Greece. The disc was discovered in 1908 by the Italian archaeologist Luigi Pernier in the Minoan palace-site of Phaistos. While it is not clear that it is a script, most attempted decipherments assume that it is; most additionally assume a syllabary, others an alphabet or logography or a calendar, making it one of the most famous mysteries of archaeology. The disk is about 15 cm in diameter and covered on both sides with a spiral of stamped symbols. The disc features 241 tokens, comprising 45 distinct signs, which were apparently made by pressing hieroglyphic "seals" into a disc of soft clay, in a clockwise sequence spiraling toward the center of the disk. This unique object is now on display at the archaeological museum of Heraklion.
Made of 925⁰ sterling silver and gold plated.
Handmade item.
Available / Ships in 1 to 3 days

FREE giftbox
Comes with purchase guarantee
| | |
| --- | --- |
| Material | |
| Kt | 925⁰ |
| diameter of disc | 1.8 cm – 0.70" – 18mm |
| length | 3.7 cm – 1.45" – 37mm |
| weight | 5 grams |
| Gender | |
Reviews (1)
Only logged in customers who have purchased this product may leave a review.
Shipping & Transit Time
We ship worldwide by DHL Express (International Priority service) and for Greece by Speedex.
For orders over 50€, we offer free shipping by Speedex.
For orders over 100€, we offer free shipping by DHL Express (International Priority service).
Speedex
Destination Greece:
5€
DHL Express (International Priority service)
Destination worldwide shipping:
delivery costs will vary depending upon the destination
The shipping cost of you order can be viewed after you place your item(s) in your shopping cart and after entering your billing details at the checkout page.
After your order has been shipped, you will get a shipping notification with the tracking number.
TRANSIT TIME BY SPEEDEX
Destination:
Greece:
about 2 – 3 days
TRANSIT TIME BY DHL EXPRESS
Destination:
Europe Transit Time:
about 1-2 working days
All other countries Transit Time:
about 3-4 working days
You can track your parcel on the DHL site (www.dhl.com) using the tracking number provided.
For shipments by DHL, please entering your phone number to the billing details at the checkout page as it's needed for the shipment.
*Duties and customs expenses will be the responsibility of the recipient.
**Deliveries in remote areas will be made through Hellenic post.