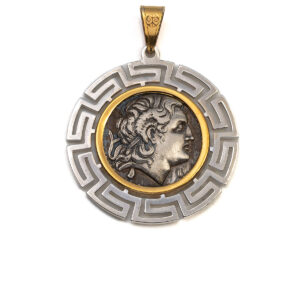 Back to products
Goddess Athena Coin – 14k Gold Sterling Silver
250,00€ – 295,00€
Tax reduction for Non-Eu countries at the end of the order
One of the most popular ancient Greek coins illustrate Athena's head on the one side and the wisdom owl on the other.
Made of 14k gold and 925 sterling silver.
The chain shown in the second picture is our Rollo Chain – 925 Sterling Silver and Gold Plated (included).
Handmade in Greece.
Explore Coins Collection
Goddess Athena and Owl – Athenian silver tetradrachm
Dracma was the currency used in Greece during several periods in its history. The tetradrachm was an Ancient Greek silver coin equivalent to fourdrachmae in Athens it replaced the earlier "heraldic" type of didrachms and it was in wide circulation from ca. 510 to ca. 38 BC. This coin belongs to the so-called "new style Athenian coins" minted between 166 and 64 B.C. and is considered one of the most popular ancient Greek coins which illustrate the portrait of Goddess Athena on the one side and the wisdom owl on the other. Athena is an ancient Greek goddess associated with wisdom, handicraft, and warfare. Athena was regarded as the patron and protectress of various cities across Greece, particularly the city of Athens, from which she most likely received her name. She's usually shown in art wearing a helmet and holding a spear. Her major symbols include owls, olive trees, and snakes. Her temples were located atop the fortified Acropolis in the central part of the city. The Parthenon on the Athenian Acropolis is dedicated to her, along with numerous other temples and monuments. Her main festival in Athens was the Panathenaia, which was celebrated in midsummer and was the most important festival on the Athenian calendar. In the classical Olympian pantheon, Athena was regarded as the favorite daughter of Zeus. The owl traditionally accompanies Athena. Because of such association, the owl has been used as a symbol of knowledge and wisdom. The inscriptions contain the city's "national" appellation ("ΑΘΕ», i.e. "of the Athenians").
| | |
| --- | --- |
| Weight | N/A |
| Dimensions | N/A |
| Material | |
| Kt | 925⁰, K14 |
| Coins | Goddess Athena |
| Gender | |
Only logged in customers who have purchased this product may leave a review.
We ship worldwide by DHL Express (International Priority service) and for Greece by Speedex.
For orders over 50€, we offer free shipping by Speedex.
For orders over 100€, we offer free shipping by DHL Express (International Priority service).
Speedex
Destination Greece:
5€
DHL Express (International Priority service)
Destination worldwide shipping:
delivery costs will vary depending upon the destination
The shipping cost of you order can be viewed after you place your item(s) in your shopping cart and after entering your billing details at the checkout page.
After your order has been shipped, you will get a shipping notification with the tracking number.
TRANSIT TIME BY SPEEDEX
Destination:
Greece:
about 2 – 3 days
TRANSIT TIME BY DHL EXPRESS
Destination:
Europe Transit Time:
about 1-2 working days
All other countries Transit Time:
about 3-4 working days
You can track your parcel on the DHL site (www.dhl.com) using the tracking number provided.
For shipments by DHL, please entering your phone number to the billing details at the checkout page as it's needed for the shipment.
*Duties and customs expenses will be the responsibility of the recipient.
**Deliveries in remote areas will be made through Hellenic post.