Previous product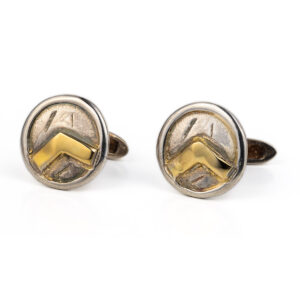 Back to products
Next product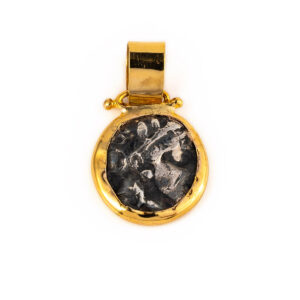 300 Spartans Shield Pendant – 14k Gold and Sterling silver
185,00€
Tax reduction for Non-Eu countries at the end of the order
The 300 Spartans Shield.
Made in 14k gold and 925⁰ sterling silver.
Handmade pendant.
This pendant represents the shield of Leonidas. Leonidas was a warrior king of the Greek city-state of Sparta. Arguably, one of the greatest heroes in the history of ancient Greece.
In 480 B.C Leonidas led an army of 6,000 to 7,000 Greeks from many city-states, including 300 Spartans, fought the invading Persian army at the pass of Thermopylae. Leonidas of Sparta blocked the only road through which the massive army of Xerxes could pass. The Persians succeeded in defeating the Greeks but sustained heavy losses. A local resident named Ephialtes led the Persian general by a mountain track to the rear of the Greeks. King Leonidas sent away all the Greek troops and stayed behind with 300 Spartans, 400 Thebans, and 700 Thespian volunteers who refused to leave. They were all killed in the battlefield, protecting their homeland.
Available / Ships in 1 to 3 days

FREE giftbox
Comes with purchase guarantee
| | |
| --- | --- |
| Material | |
| Kt | 925⁰, K14 |
| diameter | 2.9 cm |
| weight | 7.9 gr |
| Gender | |
| Design | Spartan |
Reviews (0)
Only logged in customers who have purchased this product may leave a review.
Shipping & Transit Time
We ship worldwide by DHL Express (International Priority service) and for Greece by Speedex.
For orders over 50€, we offer free shipping by Speedex.
For orders over 100€, we offer free shipping by DHL Express (International Priority service).
Speedex
Destination Greece:
5€
DHL Express (International Priority service)
Destination worldwide shipping:
delivery costs will vary depending upon the destination
The shipping cost of you order can be viewed after you place your item(s) in your shopping cart and after entering your billing details at the checkout page.
After your order has been shipped, you will get a shipping notification with the tracking number.
TRANSIT TIME BY SPEEDEX
Destination:
Greece:
about 2 – 3 days
TRANSIT TIME BY DHL EXPRESS
Destination:
Europe Transit Time:
about 1-2 working days
All other countries Transit Time:
about 3-4 working days
You can track your parcel on the DHL site (www.dhl.com) using the tracking number provided.
For shipments by DHL, please entering your phone number to the billing details at the checkout page as it's needed for the shipment.
*Duties and customs expenses will be the responsibility of the recipient.
**Deliveries in remote areas will be made through Hellenic post.