Previous product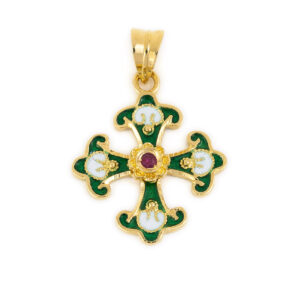 Back to products
Next product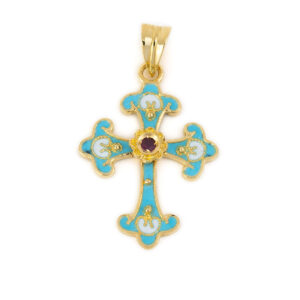 18K Gold and Turquoise Enamel Byzantine Ruby Cross
520,00€
Tax reduction for Non-Eu countries at the end of the order
Byzantine Cross is embellished with turquoise and white enamel, a rosette flower in the center which is decorated with a ruby and granules of precious metal.
The back side of the cross has not decoration. Available with green enamel. Choose your preferred enamel color.
Handmade with the great attention to detail. Inspired by Byzantine art.
Made in 18k gold.
Also available with green enamel.
The chain shown is our 14K Gold Rope Chain (not included).
Filigree is a delicate kind of jewellery metalwork, made with tiny beads or twisted threads, or both in combination, soldered together or to the surface of an object of the same metal and arranged in artistic motifs. The art of filigree dates back to ancient history. The first of the found jewelry in this technique have been found in Mesopotamia and dates to thousands of years BC. In the ancient world and particularly in Asia Minor, this art grew were at the highest level.
Granulation (from Latin: granum = "grain") is a jewellery technique whereby a surface of a jewel is covered with small spheres or granules of precious metal. The technique is thought to have its origins in Mesopotamia about 5,000 years ago.
Rosette flower
The rosette (rose) is a timeless jewel, symbol and amulet. The origin of the term is the Greek word for rose – rodon (ρόδον). Its use began in the Mycenaean era and continues as far as the 2nd millennia BC. The Mycenaean Rosette is a motif that was widespread throughout Mesopotamia, Egypt, Greece and other ancient civilizations. It is inspired by a Mycenaean rosette bead, found at Mycenae, dated to 1400-1300 B.C. The rosette were used extensively in ancient Greek Mycenaean jewels, in architecture, pottery and in sculptures from 1500 BC. Mycenaean rosettes usually had 6 or 8 or 12 leaves, and sixteen leaves during the Macedonian Dynasty. Such details as the rodax shape and the number of leaves tend to vary with the era or beliefs. The rosettes were used to decorate the cloths, the belts and wreaths of the Kings. The number of leaves had a symbolic character each time. The four elements of nature (wind, earth, fire, water), the seven wonders of the ancient world or the twelve gods of ancient Greeks and the world domination and radiance of the Kings of Macedonia. They were signs of beauty, purity, eugenics, worship and power. Rosette or Rodax was probably the most popular and favorite decorative element in Mycenaean era, classical antiquity and Byzantine times.

Available in 4-10 days

FREE giftbox
Comes with purchase guarantee
| | |
| --- | --- |
| Material | |
| Kt | K18 |
| Stones | |
| Width | 2 cm – 0.78" |
| Height | 2.9 cm – 1.14" |
| Weight | |
| Gender | |
| Design | Religious |
Reviews (0)
Only logged in customers who have purchased this product may leave a review.
Shipping & Transit Time
We ship worldwide by DHL Express (International Priority service) and for Greece by Speedex.
For orders over 50€, we offer free shipping by Speedex.
For orders over 100€, we offer free shipping by DHL Express (International Priority service).
Speedex
Destination Greece:
5€
DHL Express (International Priority service)
Destination worldwide shipping:
delivery costs will vary depending upon the destination
The shipping cost of you order can be viewed after you place your item(s) in your shopping cart and after entering your billing details at the checkout page.
After your order has been shipped, you will get a shipping notification with the tracking number.
TRANSIT TIME BY SPEEDEX
Destination:
Greece:
about 2 – 3 days
TRANSIT TIME BY DHL EXPRESS
Destination:
Europe Transit Time:
about 1-2 working days
All other countries Transit Time:
about 3-4 working days
You can track your parcel on the DHL site (www.dhl.com) using the tracking number provided.
For shipments by DHL, please entering your phone number to the billing details at the checkout page as it's needed for the shipment.
*Duties and customs expenses will be the responsibility of the recipient.
**Deliveries in remote areas will be made through Hellenic post.